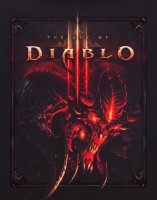 I love the Diablo videogame series. I've easily poured in hundreds of hours on each title, both when they came out and afterwards, as I'm now using DevilutionX to play the original Diablo under Linux, Diablo 2 Resurrected on PC/Windows, and Diablo 3 on Nintendo Switch. Each of them has its unique flavour, but I've come to the conclusion that Diablo 3 is the most varied and entertaining one, and visually also the one not only most pleasing but also richer in dungeon and monster themes.
At a bit above 200 pages, The Art of Diablo III was a pleasant surprise. I was expecting an average art book, with a mixture of some cool but other mundane drawings, and instead the book contains an amazing selection. The videogame graphicsare excellent, and it looks gorgeous despite being in 3D, zoomed out and already more than 10 years old. But then, you see the sketches and coloured drawings of the cultists, the beastmen, the demons, even the money goblins... and it is a new level of quality. I'd like to print some of the pictures, if that serves as a measure. There are a few 3D screenshots, and small paragraphs of explanatory text, but mostly you get what you'd expect: drawings, concepts and sketches.
I know I'm biased, but to see different concept sketches of Diablo, the characters and even some of the backgrounds, is just great. Pretty much everything is around the quality of The Art of Blizzard Entertainment. If you like the game as much as I do, this is a great piece of art to collect.
---
Categories:
Books
Videogames