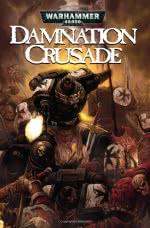 Chaos forces are digging something in a planet, and a force of the Black Templar Space Marines is sent to stop them; A new recruit is gathered in a planet to join the Black Templars; An ancient Dreadnought is awakened to participate in the neverending wars against Chaos.
These are the main story plots of Damnation Crusade, a 6 numbers comic book settled in the Warhammer 40.000 universe.
While not bad, the plots switch a lot, which combined with different artists for each issue of the comic means sometimes chaos identifying characters, until somebody calls them for their name and you reassociate them.
The story... is not deep, not long, nothing impressive nor too elaborated. It didn't engaged me much.
The drawings are fine, some quite detailed and cool, others just fine. Also varies with the artist.
Overall, recommended only if found cheap.
---
Categories:
Warhammer 40000
Comic Book