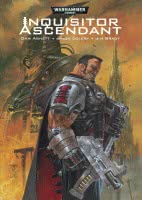 I can't remember exactly from where I got info about the presence of the comic book Inquisitor Ascendant, but I wanted to get my hands on it. Now that I've read it here are my thoughts.
As the name implies, the comic talks about Gravier, an inquisitor apprentice that follows a hardass inquisitor called Defay. The story is split on two parts, first of it telling some stories while Gravier learns from his master, and the second one afterwards when Gravier itself is an interrogator and Defay has gone missing.
It was originally published in fragments, and thus the drawings are from different artists. I really liked some of the styles, while others were just good. It is a bit of a pity that you make a visual idea of a character and some pages later it gets redrawn differently, but there's no option so... we must embrace it.
The story is nice, nothing incredibly deep but an enjoyable read, depicting some of the typical adventures an inquisitor would have, moral decisions he would have to take, and quite some action. It is partly from Dan Abnett, although there is a fragment from the second part suspiciously similar to Apocalypse Now movie...
Overall, quite good B&W comic, recommended if you want inquisitorial tales.
---
Categories:
Warhammer 40000
Comic Book