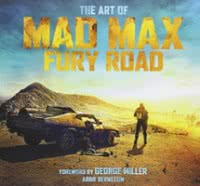 The first time I saw Mad Max Fury Road it got me speechless. I had so much fun and adrenaline pumping watching it that it became instantly one of my all-time favourites. I've already watched it half a dozen times and it simply gets better each time. So when I read about An art book of the movie, I researched a bit what its contents were. I was primary looking at drawings, sketches and details of the vehicles (especially the War Rig), and decided to give it a go after peeking some really cool picutres and storyboards.
I think I made the right decision. Along its 176 pages, you'll find not only production insider details or elaborated descriptions, but tons of drawings, not only of the movie itself but from earlier ideas, discarded scenarios, initial drafts of the characters and vehicles... There are even cool maps of the other bad guys cities (nowhere to be seen in the movie), and of course lots of pictures of the vehicles and making ofs of some of them. Combine with it some really good stills of the movie, with high quality and nice, vivid colors (as vivid as the movie, that is), some from different angles than the ones displayed at the film.
I might be biased due to my liking of the movie, but I enjoyed every page of this art book. Now it remains to watch the movie once more, with this "extended knowledge".
---