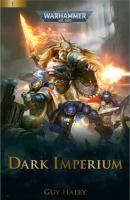 Dark Imperium is one of the first books based on the apparent new millennium (although not yet confirmed anywhere), where the Primaris Space Marines have already been created and are on their way to join (or should I say slowly replace?) their "classic" brothers, Roboute Guilliman is back and fighting chaos forces. While not the first primarch to return, it is the first loyal one to come. He feels a bit obsessed with his grim brother Mortarion, probably because of the attacks on Ultramar, but also seems to be quite impacted by what he's seen everywhere, from how the imperium survives to how the emperor "remains".
I didn't knew what to expect, if a quick sell of the Primaris and Death Guard miniatures range or new lore and maybe, just maybe, some tiny steps of the story moving forward in the 40k universe. And, while not incredible, it delivers. Hints to the emperor having lost any bit of humanity (if he had some actual care for people at all in the past), mentions on the maybe not so "legal" origins of the new space marines and Belisarius Crawl, surprise and disgust about the current state of affairs everywhere in the empire of man (will we see changes in the future?), even traces of disgust in Marneus Calgar's thoughts of his primarch's comeback. Plus of course some battles, just not anything incredible. I enjoyed more the intrigue fragments than the actual action segments.
An interesting read, I would check the synopsis before reading more books (in theory it's a trilogy) to confirm it's still appealing but not bad for "a new era".
---
Categories:
Books
Warhammer 40000