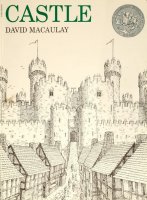 When you're young you don't usually notice who are authors of most books you read. Then, you grow up and, sometimes accidentally sometimes deliberately, you discover that the author of one of your childhood most interesting titles (The Way Things Work, which I plan to read again soon), David Macaulay, is the same of other book you loved and had stored since far far away in time: Castle.
Castle is a small book (around 80 pages) where, with small fragments of text and huge hand-drawn, black & white images, we're explained the design and construction of a fictional castle. All the techniques, way of doing things and way of living of the people inside and around it are realistic, just the castle itself is invented.
I grew up with these kind of books and loved passing the pages and watching things get built step by step, without even needing color. The drawings are excellent and very detailed, with maps or diagrams where needed to clarify some part of a building or some procedure, and it will probably entertain equally both children and grown ups.
---