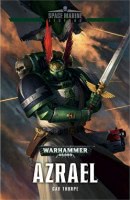 Azrael is a novel classified in the Space Marine Legends group that tells us the story of how Azrael became Supreme Grand Master of the Dark Angels chapter, and his first hard difficulties when faced with a powerful enemy and the dilemma of choosing as allies the Eldar xenos.
It is a nice narrative. We get to know about how Azrael thinks and plans, but also are presented with Belial, Asmodai and even Ezekiel, other well known Dark Angel characters that will provide advice and support to him. Belial for example is presented as a Deathwing sargeant, and for once the hunt for the fallen is mentioned but not the main drive/topic "above everything else" (meaning the only drive or reason why they take decisions).
It is not a long ebook read so don't want to get into spoilers, I liked it but felt a bit short. Action tends to end quickly and I would have loved to learn more about the main character, and about his enigmatic advisor Ezekiel... but was interesting anyway.
---
Categories:
Books
Warhammer 40000