She's gone.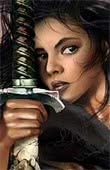 I thought I had forgotten all those feelings, but yesterday they came as a flashback. Her smile, her voice, her black hair...

We were the opposite and at the same time the best match. Her intelligence and my habilities. Her rigurosity and my crazyness.

She was the my good side, the balance in my chaos.

But she's gone, and I fear that may be forever.

---
Categories:
Elder's Thoughts