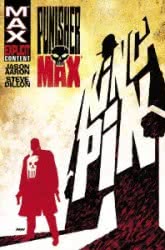 PunisherMax: Kingpin tells the story of how Kingpin became the big mafia boss and Punisher's archenemy. And I warn you, it is not a sweet story.
Let's just say that the childhood was not too good, and the villain became so cruel and emotionless quite young.
As it is hard to talk about the comic without spoiling it, I can only say that its defect is that it is so small, I wish it had more pages and more details, because becomes a rush of flashbacks and situations.
Oh, and so well done you soon forget about Punisher as the main character. It is there but as another secondary element, another reason for kingping's birth.
Hard, brutal, sometimes disgusting... but shouldn't be other way. Recommended.
---